Miami Beach Sailfish Techniques and Methods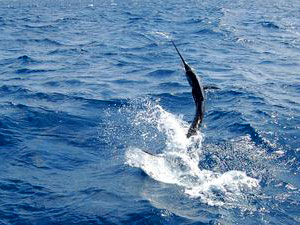 The thrill of seeing a sailfish jump like crazy is one of the best sights in the waters off Miami beach. This game fish has been sought after by many over the years and we do hook a lot of them! Sailfish are one of the best fighting game fish that we have here in South Florida . They are beautiful creatures with an iridescent blue sail that seems to "light up" when they get ready to strike a bait.
We have many methods of fishing for sailfish here in Miami beach. Trolling is one of the most popular and produces great results. Another method is live bait fishing and slow trolling. Slow trolling is great way to produce these fish. That's the style of fishing that I used growing up here in south Florida and the Florida Keys.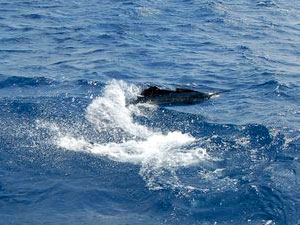 When trolling we'll maintain a spread of four rod rigged with fresh ballyhoo on mono or fluorocarbon leaders and one pitch rod which is key to this style of fishing. While the bait's are being trolled we focus on the spread waiting for the sailfish to come up on our baits. When the sailfish comes up in the spread, we drop back the pitch rod and wait for that awesome strike only a Miami Beach sailfish can produce!
We also specialize in live bait sailfishing on our charter boats, and when conditions are right, we can hook many more fish due to our versatility with live bait and trolling methods.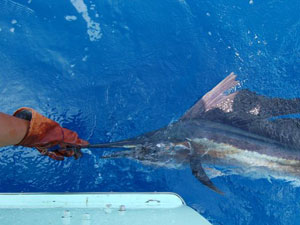 Live baiting for sailfish is lots of fun! When the conditions are right, we'll utilize a fishing kite which will greatly increase our chances of multiple hook-ups. When kite fishing, we suspend our live baits from release clips attached to the kite line. At times, we'll use 2 kites exclusively, or use one kite downwind while trailing live and dead baits from the other side of the boat while we drift. It's awesome to be able to see sailfish come up on the kite baits so close to the boat. What a sight!