Miami Beach Offshore Fishing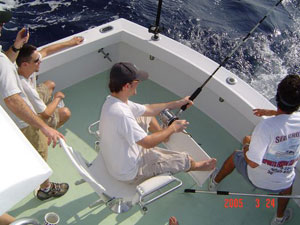 Close to the top in the ocean's food chain are dolphin (mahi-mahi) and wahoo which frequent Miami Beach's offshore Fishing . These predators are great fun to catch with opportunities all year long. Miami's mahi-mahi season is in full swing from spring to fall, with big bulls and cows showing up in March. But this gamesters are available all year long with multiple hookups a common occurrence on any given day. Offshore fishing off Miami Beach is about pure adrenaline pumping action!
Offshore fishing techniques include trolling or live baiting. When trolling we use fresh dead baits or artificial lures. We look for schools of bait busting on the surface, offshore birds and floating debris such as weed lines, pallets or anything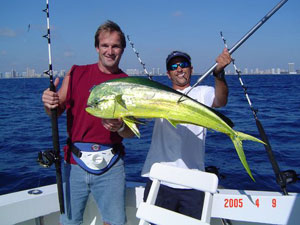 else that can hold fish. If live baiting is the method of choice, we will spend the first few minutes of your charter catching a variety of live baits to use while fishing offshore.
But don't think your here for a boat ride either. So if it's not happening offshore, we will change tactics and switch to reef fishing, wreck fishing or deep dropping for other game fish such as sailfish, snapper, grouper, cobia, kingfish or sharks.